Newaygo County Republican News
"I am a firm believer in the people. If given the truth,
they can be depended upon to meet any national crisis. The great point is to bring them the real facts."
-- Abraham Lincoln
Senate panel considers Bumstead's historic water infrastructure bill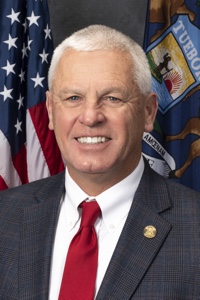 A budget supplemental bill that would invest over $2.5 billion to preserve and protect Michigan's water quality, infrastructure and the environment received testimony during a recent hearing of the Senate Appropriations Committee.
Ensuring Michiganders have access to clean water and protecting our environment — especially our Great Lakes — have always been top priorities of mine. This is an unprecedented opportunity to invest federal funding in our state's water infrastructure to make transformational improvements that will last generations.
Senate Bill 565 would provide funding for the replacement of lead pipes across the state, $700 million to upgrade local drinking water and wastewater facilities and $85 million to ensure students have access to safe water by installing filtered water stations inside schools. The plan also addresses the harmful impacts of PFAS chemicals and would dedicate $100 million in grants to remove the chemicals from "orphaned sites."
Bumstead's water plan would also make hundreds of millions of dollars in federal funding available to:
Repair, rehabilitate or remove dams in critical condition to mitigate and avoid costly catastrophes like what happened in Midland last year;
Assist communities with upgrading and replacing water treatment infrastructure.
Conduct surface water monitoring, including for wetland mitigation, and
To implement recommendations included in the Groundwater Use Advisory Council Report.
This is an opportunity to come together as Michiganders to take care of our clean drinking water, dams in critical condition, and to protect the environment. Now is the time to take advantage of this one-time federal funding to build a cleaner, safer Michigan.
The bill remains before the committee for further consideration
National Popular Vote Interstate Compact Resolution!
National Popular Vote Interstate Compact

The Electoral College was established by the framers of the U.S. Constitution as a mechanism for the selection of the head of our Executive Branch of government. This system attempted to ease the control of the "hinterland" by the heavier populated urban areas of the nation. In many ways it has demonstrated success. However, critics have long complained that this system is unfair, insisting that the "popular vote" should determine the election winner.

Attempts to change the Electoral College have been pursued: substituting a split of the votes per state as opposed to "winner take all" or attempting to eliminate the Electoral College via constitutional amendment.

The latest attempt now being offered up is the National Popular Vote Interstate Compact (NVIC). This is an Agreement Among the States to Elect the President by National Popular Vote. Currently 15 States and the District of Columbia have adopted this agreement. This represents 72.6% of the needed 270 votes to select the President.

Newaygo County Republicans firmly reject the National Popular Vote Interstate Compact and urge our State governmental leaders to do the same!









Resolution Adopted on August 1st, 2019- Internet-Public Commons or Private Company?
Google, which controls 92% of the internet search market, has U.S. authorities looking at them as a monopoly, needing antitrust intervention. Other major tech platforms, including Facebook and Twitter, have been openly criticized for employing monopolistic control over their content.
Project Veritas' undercover sting revealed Google actively blocking political viewpoints, restricting access and prioritizing items presented in search requests. Much of this action is overt and many times subliminal. Regardless of the method, the purpose is to control opinion and direct political power. This display of information funneling is extremely troubling and is toxic to our 1st Amendment freedoms.

At issue is whether these Tech Companies are private and operate as "publishers" of content and opinion, the same as a newspaper?

OR

Are these Tech Companies public commons that operate as "utilities", presenting all information regardless of its content and recipients, the same as an electric utility?
Rep. John Reilly, Oakland Township, has introduced HB 4801. This bill would make it illegal to "censor, ban or shadow-ban", or use other means to exercise viewpoint discrimination against users on the basis of the person's political opinions.
Newaygo County Republicans support this measure and strongly confirm that full information must be provided to the public-absent editing and/or opinion of the internet provider.



Resolution adopted by the Newaygo County Republican Party on June 6, 2019
Mexico Tariff
The Trump Administration has implemented a new set of Tariffs which will be levied upon all products and services entering the USA from Mexico. This program will be implemented in a series of step percentages starting at 5% and increasing in 5% increments to 25%. Cash money transfers (remittances) leaving the USA to Mexico may also be addressed.
This action is being initiated by President Trump in response to the organized and well funded caravans of immigrants leaving Central America then crossing Mexican territory to seek "asylum" here in the United States. Hopefully, the Mexican Government will aggressively intervene and curtail this assault on our sovereignty.
It is unfortunate that the Washington swamp dwellers, deep state and the never Trumpers have employed every tool at their disposal to block or delay any attempt to secure our southern border. Court filings and lawsuits, funding blockages with congressional involvement and legislative inaction have forced this tariff dilemma.
Donald Trump took an oath to "protect and defend the United States from all enemies foreign and domestic". Donald Trump, as our president is pursuing this oath of office with total commitment. Any individual swearing this oath must join the fight or be electorally defeated, impeached from the court or jailed if convicted of this treasonous crime. The rest of us, including Newaygo County Republicans, must rise up and get behind President Trump.



Disaster Request Denied
Newaygo County experienced an extremely abnormal and devastating weather event on March 14th, 2019. Heavy rain on snow covered frozen ground resulted in extreme flooding throughout our county.
This immediately caused impassible roadways, damaged parks and wastewater facilities along with flooded homes. Governor Whitmer's Administration immediately declared our county an emergency disaster.
Newaygo County lost 11 culverts and endured severe damage to 33 roads with a cost of upwards of $300,000!! The Newaygo County Road Commission spent 30% of its non-dedicated budget trying to cope with this weather impact.
With the Disaster Declaration in place our Road Commission turned to the state for help, requesting funds from the Disaster and Emergency fund. That request was DENIED!
After running with an explicit theme- "Fix the Damn Roads", Governor Whitmer is demonstrating whose and what roads are important to her. Is our rural community insignificant to her political fortunes?
Newaygo County Republicans respectfully urge the Governor to reconsider our Road Commission's request for emergency dollars to repair our roads.
Disasters are non-partisan as to who suffers and should be non-partisan as to who is helped.

Infanticide Resolution Passed by Newaygo County
Unanimous Support to Reject U.S. Senator's Votes

Fremont, MI: (Immediate Release) The Newaygo County Republican Executive Committee unanimously rejected the infanticide vote taken in U.S. Senate regarding a bill (S 311) called the "Born-Alive Abortion Survivors Protection Act".
"Our Michigan Senators Peters and Stabenow each voted for infanticide" said, Diane Schindlbeck, Newaygo County Chair. "The 'Born-Alive Abortion Survivors Protection Act', voted against by each of Michigan's two Democrat Senators, merely requires that a baby born alive after a failed abortion be afforded health care similar to any other child born alive at the same gestation age. Democrats who want 'free health care for all' somehow cannot provide any health care to an innocent survivor baby."
The Resolution (attached with this release) unanimously approved by the Committee states in part: "Newaygo County Republicans believe that the unborn deserve the protection of law and that killing via abortion is inhumane. But this vote is not about a woman's choice- it affirms infanticide."
Schindlbeck (White Cloud) was recently elected to a two year term as Chair. She follows Michigan Senator Jon Bumstead (R - District 34). Schindlbeck is also founder of the West Michigan Republicans. Learn more about West Michigan Republicans here http://www.leadersforthepeople.com/. She is also co-founder of the Michigan Trump Republicans (https://m.facebook.com/MichiganTrumpRepublicans/).

# # #
Newaygo County Republicans invite you to learn more about us and our involvement at the local, county and state levels. We like balanced budgets, smaller government, local control, opportunity for all, defending the Constitution, freedom, and our republic form of government. As it was once said, "all politics are local". We believe that. Grassroots! That IS us.

Over many decades, the Newaygo County Republicans has distinguished itself statewide, as a premier Michigan grassroots political organization…...representative government at its best. We are the ultimate growth and opportunity political party. To have the enjoyable experience of a lifetime, including by making a difference in the elections, get involved with us. We look forward to seeing you. For information email newaygocountyrepublicanparty@gmail.com or call 616-502-6192. Learn more here http://www.newaygorepublicans.org/


President Trump - Hold Fast and Build the Wall
Of our American government: to establish justice; to ensure domestic tranquility; to provide for the common defense.

All of these directives require a secure border.

Everyday illegal immigrants are crossing our borders. This is a blatant defiance of justice,when one enters our country illegally.

Tranquility is threatened when people enter without having been vetted for disease, criminal history, drug and or weapon possession.

Common defense is totally ineffective when our borders are ignored.

The President of the United States takes an oath to preserve, protect and defend the Constitution of the United States. President Donald J. Trump has correctly identified these illegal crossing as an imminent threat; securing our borders is a requirement, not an option.

The Newaygo County Republicans urge the President to hold fast, ignore the shutdown, and BUILD THE WALL.



Diane J. Schindlbeck, Past Chairman
Glen H. Sparks, Past Vice-Chairman
Newaygo County Republican Party

Now is the Time
For All Good People
Welcome to the Newaygo County Republican Committee in the Great State of Michigan.

We spell Voter with a capital "V". We are a Party of all people: First time Voters, 18-30 year old Voters including Millennial Voters, middle aged Voters, senior citizen Voters, and very senior citizen Voters.

We invite you to learn more about us and our involvement at local, county and state levels. We like balanced budgets, smaller government, local control, opportunity for all, defending the Constitution, freedom, elephants, red white & blue, apple pie and a republic form of government. As it was once said, "all politics are local". We believe that. Grassroots! That IS us.

Over many decades, the Newaygo County Republican Committee has distinguished itself statewide, as a premier grassroots political organization...representative government at its best. We are the ultimate Growth and Opportunity Party. If you like what we like and want the enjoyable experience of a lifetime, including making a difference in the 2014 Mid-Term Elections, the 2016 National Elections, and local elections, get involved with us. We look forward to seeing you.

Watch Here for Upcoming Events
"Follow truth as the only safe guide, and... eschew error, which bewilders us in one false consequence after another."
-- Thomas Jefferson to John Adams, 1819
Executive Committee Meeting Info
The Newaygo County Republican Executive Committee meets the first Thursday of each month. The meeting is at 6:00pm. Our meetings are open to the public and we would love to have you join us.

Executive Committee Meeting Dates
Next meeting: December 9th, 2021 Executive Committee meeting: Doors open at 6:00p.m. Located at the Newaygo County Offices Building in the Commissioners' Meeting Room (The County building with the red roof). Address: 1087 Newell St. White Cloud, MI 49349.

Important Dates for 2021 , Precinct Delegates and Voters

Electoral College Vote Cast
January 6th, 2021


County Conventions:
Thursday, January 21st, 2021 7:00pm


State Conventions:
Saturday February 6th, 2021


National Convention:








NEWAYGO COUNTY LINCOLN DAY DINNER !!!
We had a Great Lincoln Day Dinner on
MONDAY, SEPTEMBER 28TH, 2020 AT 6:00 PM

We had dinner under the tent and everyone was pleased with the dinner as well as our guest speaker John Tillman WITH HIS SPEECH...
THE POLITICAL VISE: HOW AMERICA'S POLITICS IS CRUSHING THE AMERICAN PEOPLE.

There were flags and signs available for our Candidates running for office and bumper stickers and other campaign material.



Contact Us
Email any of the committee members listed here, or use the handy contact form. We appreciate your interest!
Michigan Republican Party Information
You can go to the link below and get Michigan State Party Information.
Visit on the Web:
Michigan Republican webpage

Questions? Need Help?
Please fill out our online contact form. We will respond to you. Thank you for your interest in the Newaygo Republicans.